One of the many benefits of the airhdl Professional plans is the ability to share register maps with other airhdl users, either in a read-only way or with full editing priviledges. Technically, the user who first creates a register map becomes the owner of that register map, and that gives him or her special priviledges, such as being able the share the register map with other users, or to delete the register map from the database.
After a few years of working with airhdl (and possibly switching jobs in between), some of our users have expressed the need to transfer the ownership of one or more register maps to other airhdl users. Until now, that wasn't possible in the user interface but the latest airhdl release now allows you to do that very easily, provided you have an active Professional subscription.
To transfer ownership of a register map to another airhdl user, click on the gear icon in the Register Map view and select Transfer Ownership in the drop down menu: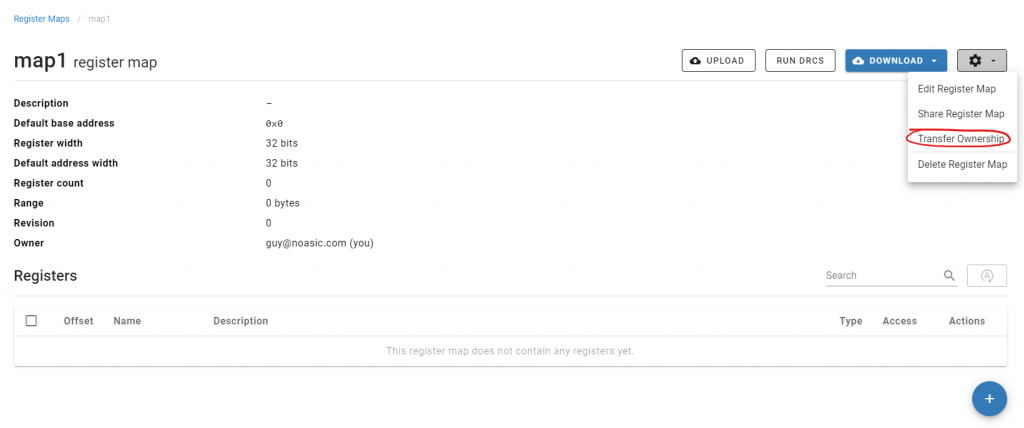 This brings up the Transfer Ownership dialog, which prompts you for the e-mail address of the user you'd like to transfer that register map to. The e-mail address should correspond to the one of a registered airhdl user: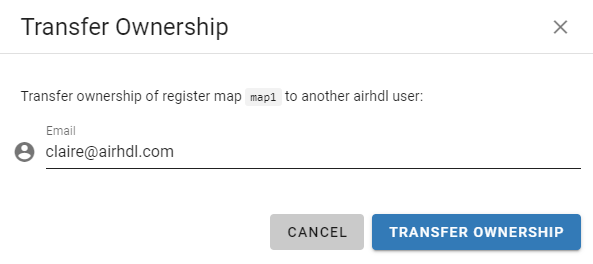 Once you've entered the e-mail address, click the Transfer Ownership button to trigger the transfer.
Note that transferring ownership of a register map cannot be undone. Please make sure to double-check the e-mail address of the destination user before clicking the Transfer Ownership button.